Laboratoire PYC welcomes Francis BON as R&D manager
https://www.laboratoire-pyc.com/wp-content/uploads/PHOTO-BLOG-FRANCIS-2-1024x512.jpg
1024
512
admin-pyc
admin-pyc
https://secure.gravatar.com/avatar/0230e3b627514ff2fe54ed68bff1dcc1?s=96&d=mm&r=g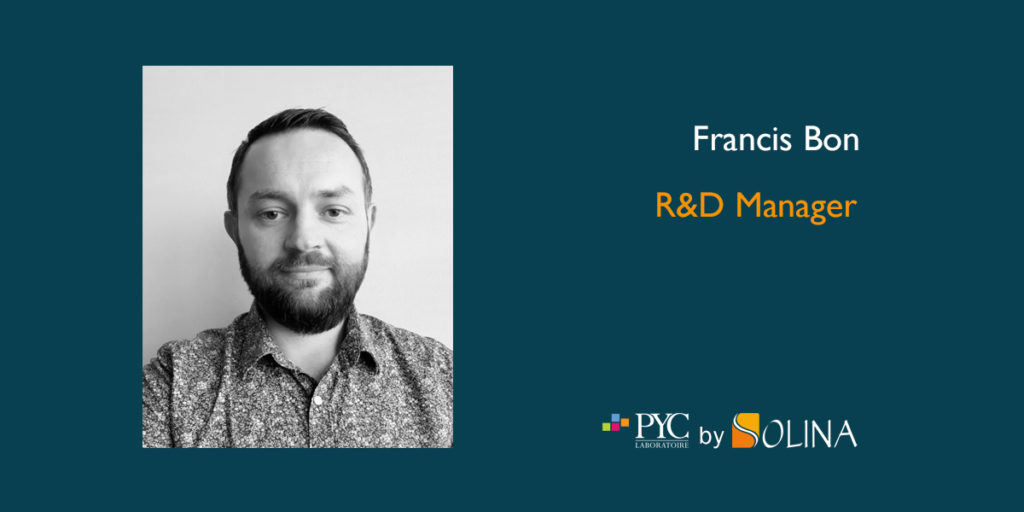 Laboratoire PYC welcomes Francis BON as R&D manager
In April, Francis BON took over the management of the R&D team to support the growth of Laboratoire PYC. Discover his vision.
INNOVATING AND SUPPORTING CUSTOMERS IN THEIR R&D FORMULATION PROJECTS
What do you wish to bring to the existing R&D team?
An open mind, another vision of what they do, complementarity and support between people through their missions which are very varied within Laboratoire PYC. A fresh view also, bringing out the innovative and creative side of R&D in line with the management's policy.
What does 'innovating' mean to you? What are the ingredients of a creative R&D team?
Innovating means creating something that is not yet existing. Moving forward, constantly renewing oneself, exploring what one did not dare to do before: new ingredients, new flavours, new processes, etc.
The most important ingredients are self-confidence and confidence in the work of colleagues. Making mistakes is human, the main thing is to draw the right conclusions to become more efficient afterwards.
The key is offering innovative sources of raw materials as well as ever more innovative textures and flavours that are appreciated by our customers.
Finally, harmony and synergy complete this beautiful cocktail!
What new R&D challenges would you like to tackle as a team?
Growing as an R&D team but also as a PYC team, becoming even more agile and supportive to the more complex and therefore interesting demands of our customers.
Our next challenge is to accelerate and take Laboratoire PYC to its future position of leader in the development, manufacturing and packaging of nutrition products.
Flavouring is one of SOLINA's strengths, how is it used in nutritional products?
Nutrition-oriented products are generally very concentrated in proteins, fibres, vitamins and minerals or elements of interest, which makes them hardly acceptable on a sensory level without quality aromatic work. SOLINA' s strength in savoury flavours is an asset for our developments and the sweet flavours are a know-how of Laboratoire PYC.
Customer demands are constantly changing, how do you adapt in R&D?
By anticipating, whether from an aromatic point of view or on new protein sources for example. We must keep a constant watch, receive and work on ingredient suggestions from suppliers and validate them internally on reference matrices to be fully prepared when needed. This is a heavy workload for our teams, but it allows us to answer extremely quickly to our customers, which makes Laboratoire PYC so strong.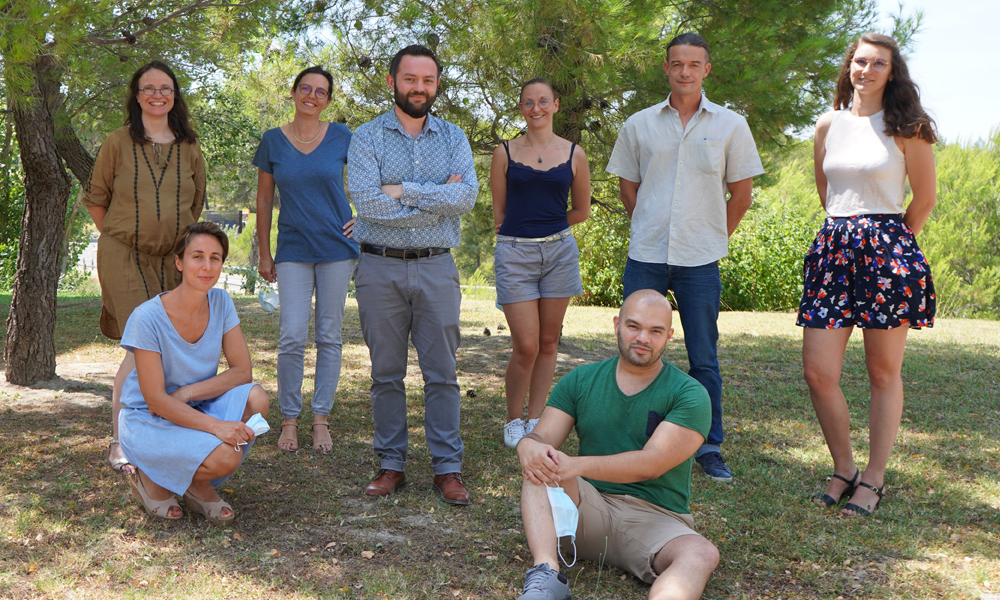 R&D TEAM OF LABORATOIRE PYC
Isabelle HAMON, Dominique THIERY, Francis BON, Marine HEURTAULT, William LAURENCE, Laura AUGRANDJEAN, Anne FUNDT, Amine BOUSMAHA.
THE R&D DEPARTMENT IN FIGURES
FRANCIS' BACKGROUND AND IMPRESSIONS
Your professional experience?
At first, I worked for 4 years at the Dijon University Hospital as a Clinical Research Associate. During this experience, I developed, with two food companies, the "G-nutrition" bread, enriched with vitamins, minerals and proteins, adapted to the chewing and swallowing abilities of the elderly.
I then worked for 2 years in scientific consultancy and development of food products (gluten-free bread, vegan products, cereal products, fruit purees, mushrooms, etc.) in France and abroad.
Then, I joined a business consulting company in which I was a shareholder and I worked there for 3 years. I developed products for national and international groups.
I then managed the R&D and marketing departments of Maison Chancerelle in Brittany. During this period, I enjoyed understanding and getting to know all the group's activities and structuring product developments by considering all the layers of the company and its direct consequences in terms of production and profitability. I also had the opportunity to experience multi-site work with production facilities based in Brittany, Morocco and Croatia.
I then joined Foodinnov Nutrition as R&D, Regulatory and Export Manager. I had the opportunity to develop nutritional products on various matrices (drinks, cream desserts, food supplements, biscuits, cakes, crackers, breads, egg substitutes, etc.) and for targeted populations (children, athletes, seniors, etc.).
Why did you join Laboratoire PYC and the SOLINA group?
For the challenge, for the confidence I was shown and for sharing common ideas with the management of Laboratoire PYC. To further expand this company while aligning it with the group's expectations. We hold all the cards.
What are your first impressions of the company?
Laboratoire PYC is a human-sized company in a large group. Here, everyone knows each other and is helpful, which is very valuable. This company is very dynamic and is constantly questioning itself to give complete satisfaction to its customers.
To ask for the formulation of diet products, sports and food supplements:
Follow the activity of Laboratoire PYC on LinkedIn