10 new food supplement formulas from Laboratoire PYC
https://www.laboratoire-pyc.com/wp-content/uploads/FOOD-SUPPLEMENTS-INNOVATIONS-2-1024x512.jpg
1024
512
admin-pyc
admin-pyc
https://secure.gravatar.com/avatar/0230e3b627514ff2fe54ed68bff1dcc1?s=96&d=mm&r=g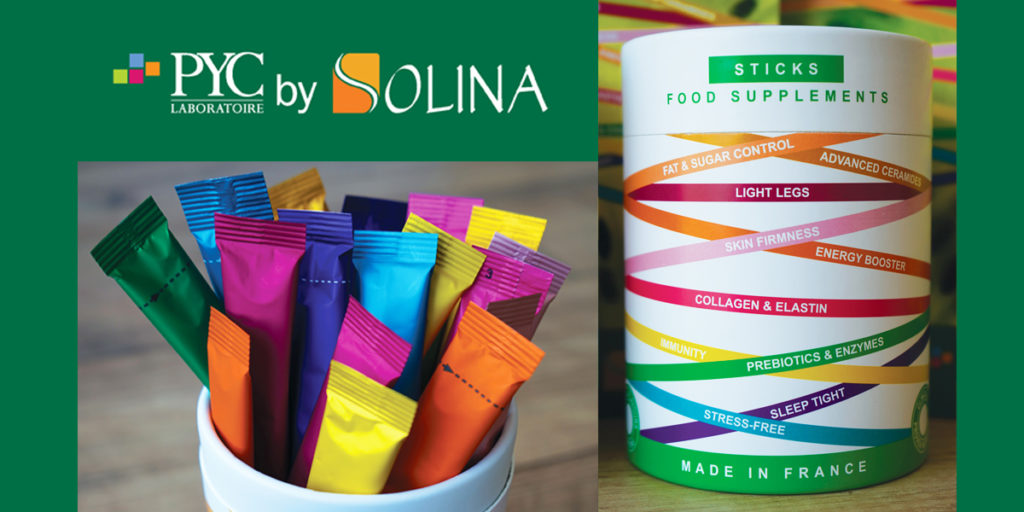 10 new food supplement formulas from Laboratoire PYC
An IPSOS study was carried out in Europe in 2022, involving 14 countries and 13,249 people. The study revealed that 88% of respondents had already used food supplements. Of these, 93% had consumed a food supplement in the last 12 months, according to the survey.
The market is still booming, and Laboratoire PYC is working hard to perfect its expertise as a manufacturer. Its mission is to support food supplement brands as closely as possible.
In this context, the company recently presented a pack of 10 new food supplement formulas packaged in sticks.
Powder formulas adapted to your needs
Laboratoire PYC offers these new concepts to brands looking for a French partner specializing in food supplements.
All the formulas in the box are in powder form. 8 formulas are suitable for rehydration and 2 formulas are orodispersible.
These formulas are ready to sell or can be adapted to the needs of brands with a tailor-made formulation.
Laboratoire PYC launched this presentation box at the PLMA trade show in Amsterdam in May. The company will also be showcasing it at BeautyWorld Middle East in Dubai at the end of October.
10 formulas for 10 promises
Each formula in the box targets a key promise of the food supplements market: sleep, stress, vitality, immunity, circulation, digestion, slimming, nutricosmetics (anti-ageing, hydration, firmness).
The segments chosen meet current consumer expectations. Indeed, a Harris Interactive survey for Synadiet in 2022 showed that vitality is the main reason for consuming food supplements (44%). This is followed by boosting the immune system (42%). Mental well-being (relaxation) comes third (31%), followed by improved digestion (26%). Finally, 24% use them to enhance their beauty.
The strengths of these 10 formulae
The 10 concepts developed meet a range of purchasing criteria, including effectiveness, naturalness, innovative ingredients, French origin, pleasure and sustainability.
Efficient formulas
The 10 formulas contain breakthrough ingredients proven by clinical studies. The actions of each product can be promoted through claims on the packaging. Each ingredient has been rigorously selected for its innovative properties.
For example, ENERGY BOOSTER contains Robuvit®, which has been the subject of 25 clinical studies involving over 600 people. Robuvit® is a French oak extract from the Horphag company.
Naturalness at the heart of our formulas
Naturalness is one of the TOP 5 considerations when buying food supplements (according to the European IPSOS survey). Laboratoire PYC has been following a clean label approach for 5 years.
As a result, the composition of each food supplement meets consumer demand for naturalness and transparency. In these 10 new formulas, the tastes and colours are natural. In addition, the carrier is plant-based.
Food supplements from France
All the food supplements are made in France. The box itself is manufactured by a French partner.
In addition, Laboratoire PYC has favoured certain flagship active ingredients of French origin, such as Ceramosides™ from Seppic. This ingredient enters the ADVANCED CERAMIDES formula with skin moisturising and anti-ageing properties.
More sustainable food supplements
As part of its sustainable and responsible approach, the company also pays attention to ingredient sourcing. For example, it gives preference to suppliers of active extracts that promote good resource management, pesticide-free cultivation, natural solvents and waste recycling.
In addition, Laboratoire PYC is making every effort to ensure that all its packaging will be 100% recyclable by 2030.
The box on offer is fully recyclable.
On-trend formulas focused on consumer pleasure
For these 10 new formulas, the R&D team has inventoried new natural flavours and worked on new aromatic combinations. As a result, the flavour trends of 2023 are given pride of place, including citrus notes such as yuzu, grapefruit and clementine.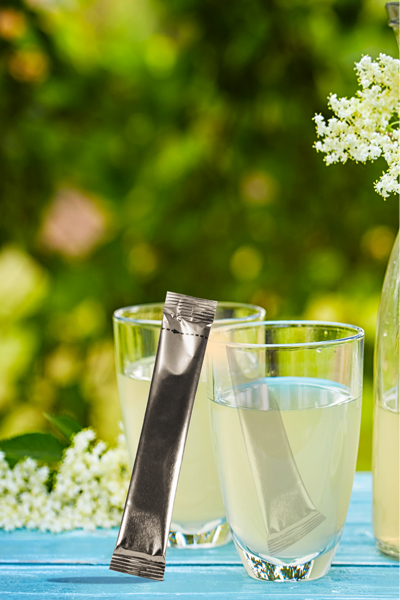 In addition, trendy fruit/flower combinations are included in the formulas: grapefruit-jasmine, apple-hibiscus, etc.
Laboratoire PYC's approach is essentially centred on consumption occasions.
Laboratoire PYC has been supporting international brands in the development and production of their formulas for over 30 years.
If you are interested in a formula or if you would like to receive the presentation box of our expertise, please: