A new clean label immunity food supplement
https://www.laboratoire-pyc.com/wp-content/uploads/PHOTO-BLOG-IMMUNTE-1024x512.jpg
1024
512
admin-pyc
admin-pyc
https://secure.gravatar.com/avatar/0230e3b627514ff2fe54ed68bff1dcc1?s=96&d=mm&r=g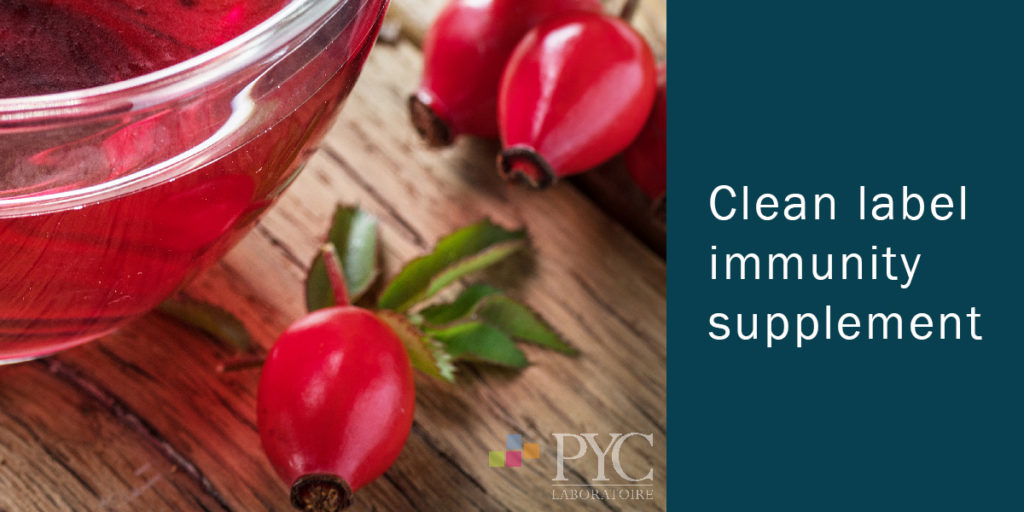 A new clean label immunity food supplement
Laboratoire PYC has developed a new immunity food supplement formula based on active ingredients of European origin: vitamin C, vitamin D, zinc.
The formula is clean label and vegan. Discover.
Why a clean label immunity food supplement, which advantages?
Three quarters of food supplement users favour the natural aspect of the product (source: Synadiet, general meeting, 2021).
To meet this need, for the last 5 years, Laboratoire PYC has created a range of "Clean label" food supplements. They contain fewer than 10 ingredients and their labelling is clearly understandable for the consumer. The idea is that everyone can consume their food supplement for its health benefits and without superfluous ingredients!
In concrete terms, for the new clean label immunity food supplement:
– It is formulated without silicon dioxide and titanium dioxide
– The flavours are natural and so is the colouring of the product
– The sweetness is provided by steviol glycosides from Stevia
– We use a vegetable fibre carrier
For example:
in Laboratoire PYC's immunity food supplement, the emphasis is on active ingredients, since 100% of the nutritional reference values are achieved with a single 5g stick per day.
In addition, selection is made with great care: a European ingredient origin and no GMOs.
The advantage is a formula that meets the consumer's expectations: active ingredients in optimal quantities without unnecessary ingredients and selected for their quality and origin.
Active ingredients of plant origin for a vegan immunity supplement
The 3 active ingredients of the new immunity formula are of plant origin: vitamin C, vitamin D and zinc.
Marine Heurtault, R&D project assistant for food supplements:
As part of our clean label approach, we formulate with as few ingredients as possible and our ingredient sourcing targets active ingredients of plant and European origin. For this immunity food supplement, we have sourced a rosehip extract titrated in native vitamin C. We have chosen a light and fruity lemon-strawberry flavour to combine pleasure and health.
The vitamin D in this supplement is derived from algae.
It should be noted that vitamin D is one of the nutrients under surveillance. The report of the INCA 3 study reveals that the vitamin D intake of French adults is insufficient. Health professionals recommend taking food supplements. Pharmacists see it as an asset when its origin is natural.
Aurélie SIFFRE, Doctor of Pharmacy, provides more details in her section dedicated to VITAMIN D:
Immunity, what demand?
Generally speaking, among regular consumers of food supplements, 76% use them to maintain good health (source: Synadiet, general meeting, 2021).
The appeal of food supplements has been further accentuated by the health crisis.
62% of French people state that they have been paying more attention to their health since the crisis and 60% of them have taken action to strengthen their immune system (Synadiet).
Wellness and health prevention are areas that do not seem to be slowing down in 2021. The use of natural solutions to promote immunity, sleep or fight against stress are among the top requests, in France and elsewhere in the world.
Our laboratory based in Aix-en-Provence has acquired extensive experience in the formulation of food supplements in powder form.
Follow the activity of Laboratoire PYC on LinkedIn