Food supplements for beautiful hair – tips and trends in pharmacies
https://www.laboratoire-pyc.com/wp-content/uploads/RUBRIQUE-TENDANCE-PHARMA-3-1024x512.jpg
1024
512
admin-pyc
admin-pyc
https://secure.gravatar.com/avatar/0230e3b627514ff2fe54ed68bff1dcc1?s=96&d=mm&r=g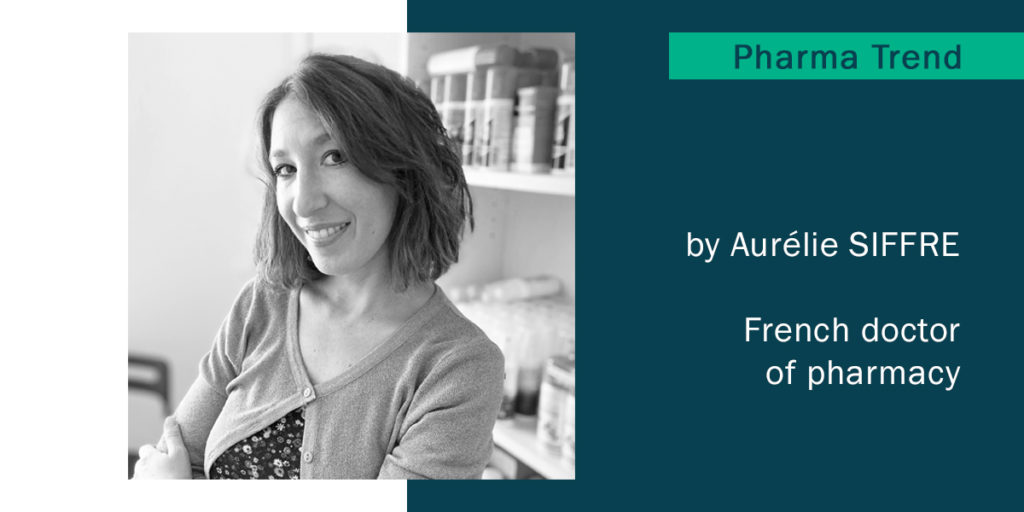 Food supplements for beautiful hair – tips and trends in pharmacies
Aurélie SIFFRE, Doctor of Pharmacy, explains the composition of hair beauty supplements and the latest trends in pharmacies. Discover her advice.
Hair loss
Every autumn, it is common to find that hair falls out in small groups and is damaged after holidays in the sun. This mostly affects women and lasts about 3 months, followed by a complete regrowth. In addition, treatments such as perming, colouring, straightening, or hairstyles that pull the hair do not help this natural phenomenon [1].
There is usually no real need to treat this diffuse hair loss. But the demand for hair loss supplements at the pharmacy counter is high at this moment. It concerns people whose hair mass is already diminished, people who are stressed or depressed, women who have recently given birth, or people who have had a hair accident (too much colour…).
Which formula for hair supplements?
In Europe, 4 elements are recognised with claims:
– vitamin B8 or biotin
– zinc
– selenium
– copper

The first three contribute to "the maintenance of normal hair" and copper acts on "normal hair pigmentation" [2].
It should be noted that products should contain at least 7.5 micrograms of biotin per dose to be effective. Most supplements contain B vitamins that stimulate the production of keratin, a protein that makes up hair and nails [3]. Vitamin B8 or biotin is often combined with vitamin B5 or pantothenic acid.
Finally, Cystine is a sulphur-containing amino acid that is often added to formulas; it can be of natural or synthetic origin [4].
Plant extracts and innovations in the hair segment
Currently, brands are seeking to differentiate themselves by including natural products in addition to the vitamin/mineral combination mentioned above.
Regarding plants awaiting a claim, we can cite:
Adiantum capillus
Ascophyllum nodosum
Equisetum arvense.
Hair supplements: clear positioning
Manufacturers differentiate their packaging positioning to be as explicit as possible for consumers.
Brands for hair and its beauty most often cover 2 themes:
– Hair-strengthening formulas that aim to provide the nutrients needed to synthesise good quality keratin for stronger-looking hair
– Anti hair loss formulas that target 5-alpha reductase in the hair follicles (the enzyme responsible for baldness). Several brands are positioned in this segment.
It should be noted that vitamin complexes that strengthen the hair are used in anti hair loss and strengthening formulas.
The role of food
A balanced diet that provides enough of the necessary nutrients to build up hair is recommended.
– Proteins and iron: to promote the synthesis of keratin, our body needs amino acids, particularly sulphurous ones, which are found in meat and fish. Red meat, poultry, fish and seafood also contain iron, an essential trace element for hair growth and root oxygenation.
– Zinc: present in oysters, seafood, red meat, seeds and fish.
egg yolks and lentils contain good quantities of sulphur amino acids, iron, zinc and B vitamins, and are therefore interesting for healthy hair.
Essential fatty acids: omega-3 and omega-6 found in rapeseed, walnut, hemp and soybean oils [5].
The hair segment in pharmacies
There is a wide range of topical products available, such as ampoules, lotions, sprays, hair loss shampoos and hair conditioners, as well as food supplements. This year saw the introduction of "gummies", a new galenic form that is becoming increasingly popular.