High protein products: designing effective and quality diet recipes.
https://www.laboratoire-pyc.com/wp-content/uploads/page-blog-proteines-DT-1024x512.jpg
1024
512
admin-pyc
admin-pyc
https://secure.gravatar.com/avatar/0230e3b627514ff2fe54ed68bff1dcc1?s=96&d=mm&r=g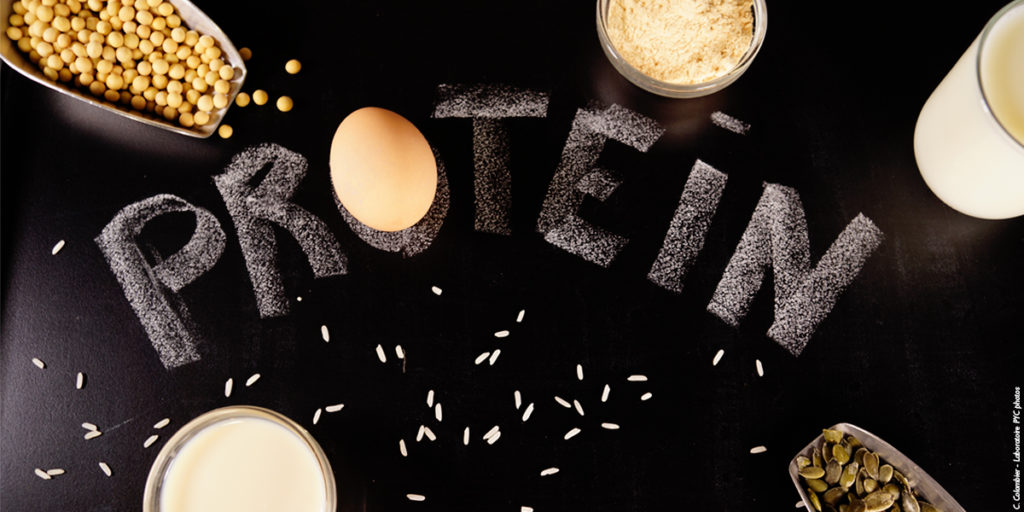 High protein products: designing effective and quality diet recipes.
Interview with Dominique THIERY, responsible for the formulation of high protein powder products at Laboratoire PYC for 20 years.
1. How do you define a high protein product from Laboratoire PYC?
PYC high protein products contain a particularly high level of protein. At the regulatory level, a claim that a food is high in protein can only be made if a minimum of 20% of the energy value of the food is provided by protein.
At Laboratoire PYC, the protein concentration of powder products is around 70% of the energy value.
We develop products containing up to 20g of protein per dose.
2. Is it recommended to consume protein during the strict diet phase?
Most of our customers use high protein products as part of a slimming diet.
Indeed, the intake of a sufficient quantity of protein helps to preserve muscle mass during sometimes strict diets,
for example during diets under medical supervision where a significant weight loss is targeted.
The effectiveness of the diet is decisive and Laboratoire PYC wishes to provide its customers with the best possible products, knowing that the protocols (menus, duration, follow-up…) remain fundamental.
3. How do you select your proteins?
Several criteria are considered when sourcing new proteins.
At first, nutritional quality is sought, particularly the protein concentration of the ingredient and its aminogram, i. e. its content in each amino acid.
In addition, we ensure that our proteins are selected based on defined origins.
The organoleptic profile and good solubility are also very important elements in protein selection.
Taste and texture are essential characteristics because they directly impact those of the finished product, due to their high protein content.
On the other hand, since powdered preparations are reconstituted by the consumer himself, rehydration must be easy.
Finally, the commercial aspect also comes into play. Apart from price, we seek confidence in our suppliers on their ability to provide ingredients of the expected quality and in compliance with delivery commitments.
4. How do you design a protein recipe at Laboratoire PYC?
The choice of the protein(s) used is important in the design of recipes because the result depends directly on it; the appearance and taste vary according to the type of protein used. Thus, the proteins are selected according to the formulated recipe (drink, cream, omelette…) but also to reach the targeted nutritional specifications (protein content, minerals, chemical index…).
Of course, other elements are also considered, for example when it comes to custom formulations where the specifications impose criteria such as the use of certain types of proteins (hydrolysates, isolates, etc.) or the absence of an allergen (gluten-free products) or special diets (vegetarians, etc.).
At the practical level, the use of a formulation software internal to our group allows us to monitor in real time several criteria ranging from nutritional values to material costs and the monitoring of special criteria (allergen, etc.).
Finally, the stage of prototype realization at the development laboratory and its implementation is very important because it is there that we judge the quality of the test. Several versions are sometimes necessary before obtaining a satisfactory result.
5. How do you ensure that powdered protein products are accepted by consumers during a diet?
Our aim is to approach the taste of the corresponding common foods as closely as possible, by carefully selecting each ingredient and using the most pleasant aromatic notes possible.
We belong to the SOLINA group, historically an expert in aromatic and visual solutions for the food industry in Europe. We rely on this know-how to formulate the most accurate and varied aromas possible.
In the context of specific developments where the use of certain active ingredients or types of proteins with a pronounced taste is required, Laboratoire PYC seeks to improve the taste by using flavours chosen to best match the base notes provided by these ingredients.
The use of visual ingredients such as herbs, vegetable pieces or chocolate chips, for example, can also help to improve the appearance of products and thus their acceptance by consumers.