Preventive health through nutrition and food supplements, what is your opinion? Interview with Aurélie SIFFRE, pharmacist.
https://www.laboratoire-pyc.com/wp-content/uploads/RUBRIQUE-TENDANCE-PHARMA-3-1024x512.jpg
1024
512
admin-pyc
admin-pyc
https://secure.gravatar.com/avatar/0230e3b627514ff2fe54ed68bff1dcc1?s=96&d=mm&r=g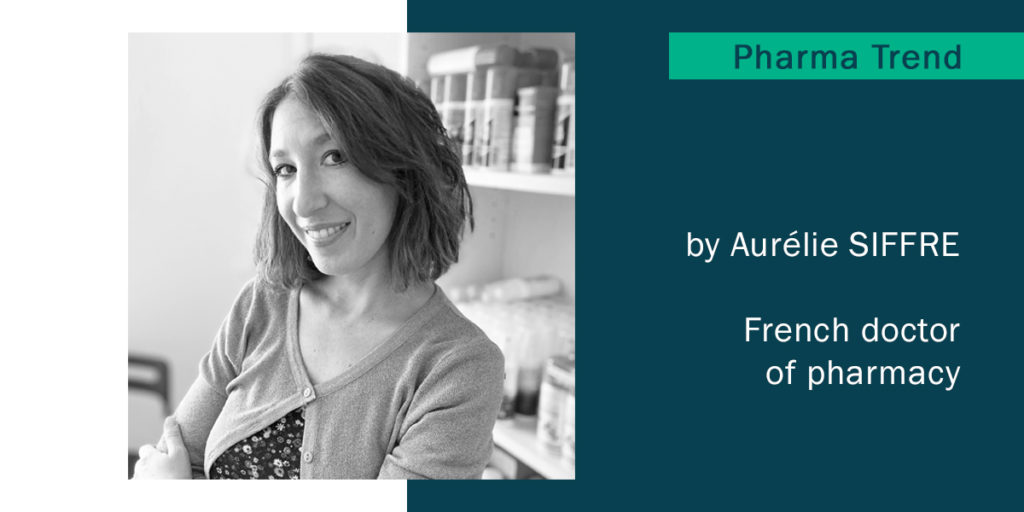 Preventive health through nutrition and food supplements, what is your opinion? Interview with Aurélie SIFFRE, pharmacist.
Aurélie SIFFRE is a Doctor of Pharmacy, in France.
We asked for her opinion on a more preventive health.
Discover her answers.
Preventive health: what do you think the future holds?
Everyone knows the adage "prevention is better than cure" or the very famous phrase (wrongly?) attributed to Hippocrates "Let food be thy medicine".
Yes, prevention will be a strong theme to develop in the coming years in the field of health, and food supplements will undeniably have an important role to play.
Why health prevention?
The increase in health expenditure, which represents 11% of French GDP – i.e. the highest in Europe – the cost of chronic diseases, their impact on the quality of life of patients and the ageing of populations lead to the following observation: there is an urgent need to approach our health system differently. Prevention to improve well-being, while reducing health insurance expenditure, is a new approach which, in my opinion, is not being adequately promoted in France, despite some initiatives that receive too little attention.
In 2016, the overall cost of preventive actions represented only 6% of health expenditure. The main themes are the fight against obesity, stopping smoking, the dangers of alcohol, cancer screening, vaccination, etc. Better health and economics therefore go hand in hand with prevention. [1] [2]
What role food supplements can play in this context?
Synadiet (syndicat national des compléments alimentaires) highlights several themes in which food supplements have an essential role to play.
Take the simple example of Vitamin D: 80% of the population is deficient. Supplementing with vitamin D means fighting osteoporosis and therefore bone fractures, which are very costly to treat… [2].
This requires the identification of patients at risk via a medical analysis, the prescription or recommendation of a suitable food supplement, but also and above all follow-up over time.
Which populations should be targeted by a preventive approach?
According to projections made for 2050, more than one person in 10 will be over 80 years of age: so, ageing, of course, but ageing well is much better!
Yet only 43% of people over 65 say they are in good health. It would be a mistake to target only the elderly: we must act throughout life and identify people at risk. Patients must therefore become active rather than passive in the maintenance of their health.
To achieve this, education remains a major factor: better nutrition, adapted physical activity, reduction of risk behaviours, access to information and benefits of food supplements… Health professionals have more than ever a key role to play. [3]
Your health approach?
In conclusion, in the reform of health insurance initiated in recent years, preventive actions are multiplying, but do not yet represent a substantial part of it. Medicine is tending to become "Predictive, Preventive, Personalised and Participative". [2]
Food supplements must be fully integrated into this new approach.
Thank you very much to Aurélie SIFFRE for these answers.
For any food supplement development request:
[1] AMELI, our prevention actions
[2]Source: Synadiet – prevent rather than cure
[3] Source : Synadiet – the prevention food supplements booklet