CAKES RECIPES FOR A VARIETY OF NUTRITIONAL REQUIREMENTS. INTERVIEW
https://www.laboratoire-pyc.com/wp-content/uploads/ligne-cake-pyc-1024x512.jpg
1024
512
admin-pyc
admin-pyc
https://secure.gravatar.com/avatar/0230e3b627514ff2fe54ed68bff1dcc1?s=96&d=mm&r=g
CAKES RECIPES FOR A VARIETY OF NUTRITIONAL REQUIREMENTS. INTERVIEW
Anne Fundt and Laura Augrandjean develop specific nutrition cakes for Laboratoire PYC (diet, senior, gluten free…).
They share their experience and answer our questions.
Laboratoire PYC has launched savoury cakes, can you tell us more?
Yes, this is a 2021 new development from our team.
In 2018, Laboratoire PYC launched a range of small high protein cakes in sweet flavours and phase 1: less than 1g of sugar and 7g of protein per 20g portion!
To diversify its product offer, in 2021 Laboratoire PYC is launching an innovative range of savoury high protein cakes, available in 5 new flavours: chicken, bacon, olive, goat cheese-rosemary and pepper-chorizo, with an innovative rectangular format of 40g.
These cakes are also phase 1 and are ideal for a strict protein diet: 14g of protein per 40g cake and no more than 5g of carbohydrates!
Just like the sweet range, the savoury range is gluten-free.
What technical challenges do you face with high protein and low sugar cakes?
The challenge lies in the structural composition of our gluten-free cake doughs, which are very different from traditional bakery doughs, in which gluten – the protein in wheat flour – plays a key role in forming a flexible and workable network.
Added to this is the high protein content, which hardens the dough, making it less elastic, more compact and therefore less easy to work.
Another technical challenge of these ranges of cakes is the absence of added sugars which usually have a fundamental role in the structure of traditional doughs: they bring softness in the texture and roundness in taste.
Our team has worked on these products with innovative raw materials to overcome these problems and to offer diet products that are strict from a nutritional point of view while remaining delicious from a gustative one.
Are there any new flavours of cakes you would like to try?
We are currently working on new sweet flavours: fruity trends but also inspired by the flavours of gourmet desserts. The aim is to expand the sweet range but also to work on different nutritional profiles.
Do you have a passion for pastry and cooking?
Laura:
"I like to reinvent traditional pastry at home and create recipes that are tasty but healthy: less sugar, exotic ingredients, etc."
"I cook every day for my family, combining diet and delicacy to introduce my young children to good eating habits! ".
A recipe to share together?
High protein dessert verrine:
– heat pieces of PYC toffee cake for 10 minutes in the oven
– add PYC high protein stracciatella dessert
– cover with PYC high protein chocolate dessert
Enjoy!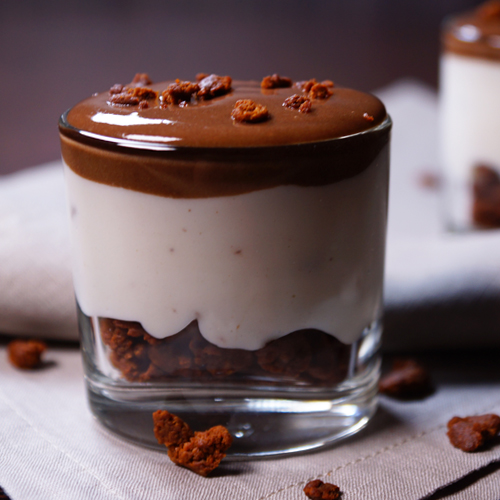 A few words from the team
"Combining innovation and pleasure! A daily challenge in my work and at home!" (Anne)
"What I enjoy most about my job is tasting and improving our new cake recipes formulated in the R&D laboratory. Fortunately, they are health food products! " (Laura)