Caroline GUYON takes over the management of Laboratoire PYC, INTERVIEW.
https://www.laboratoire-pyc.com/wp-content/uploads/Caroline-collaborative-management-1024x512.jpg
1024
512
admin-pyc
admin-pyc
https://secure.gravatar.com/avatar/0230e3b627514ff2fe54ed68bff1dcc1?s=96&d=mm&r=g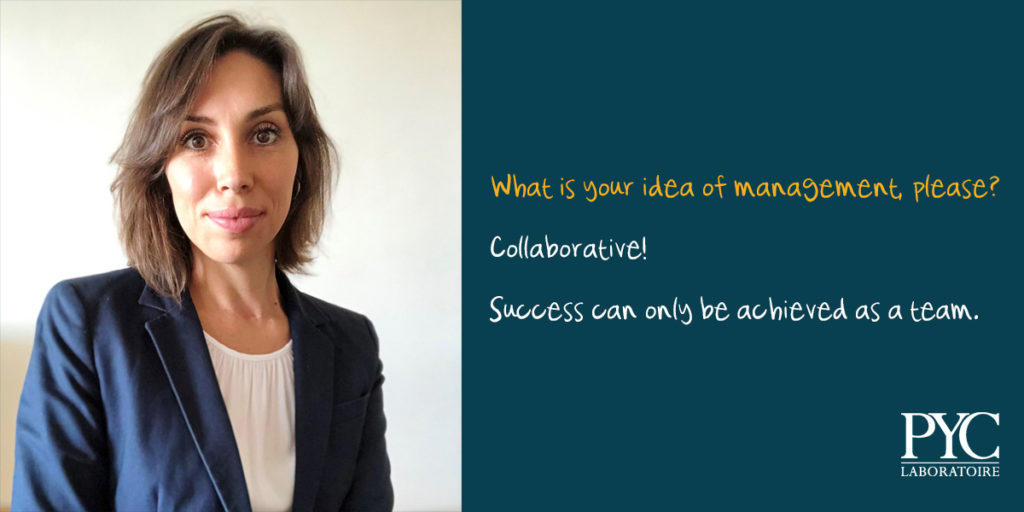 Caroline GUYON takes over the management of Laboratoire PYC, INTERVIEW.
Caroline GUYON has taken over the management of Laboratoire PYC, following the retirement of Roger BORNE.
Some questions to Caroline GUYON.
Why are you taking over the management of Laboratoire PYC?
I've been working at Laboratoire PYC for many years, it's a real team and it' s a pleasure to work with them. It was essential for all of us that the new management maintains this PYC spirit, for all employees but also for all our customers and suppliers! This is one of the main reasons why I applied for the management of Laboratoire PYC.
What is your overall view of the last years at Laboratoire PYC? (Investments, growth, …)
For 9 years, I travelled through different countries as Sales Manager for Laboratoire PYC. I joined at that time to reinforce the sales team as the growth was very strong! And in fact, the "machine" was launched. We are progressing every year, thanks to our new products and thanks to the opening of new markets. We have a strong presence in the sector and take part in many trade fairs.
In 2020, a special year, we saw the commitment of every employee in the company.
We are absolutely all oriented towards customer satisfaction, and despite the health crisis we are going through, all the teams are in place and everyone knows how to give the best of oneself to maintain PYC's commitments to our customers.
What is your vision of the food supplement market?
The food supplement market is booming. Every year we develop more and more tailor-made products. The current situation shows that many consumers are looking for a way to protect themselves. Stress, insomnia, immunity are booming demands.
Many new active ingredients are referenced each year at Laboratoire PYC, and we make sure that clinical studies are carried out to guarantee the benefits of these products on the human body.
Our growth in this sector is also driven by nutricosmetics. It is essential to take care of ourselves, beauty also comes from within!
We have worked on galenic innovations. In addition to single-dose and jars, we also offer stand-up pouch formats that enable less consumption in packaging!
What is your perception of the weight-management market?
The weight-loss market continues to grow. Whether in Europe or abroad. Consumers are increasingly paying attention to what they eat. People are now aware of the harmful effects of being overweight. So, we offer them products adapted to their diet. We make sure to use very high-quality proteins. We develop products with varied textures, gourmet flavours, sweet and savoury, and easy to use, so that the diet does not become a constraint and is not stopped during the slimming process. We have innovative products that make it possible to eat real meals. The "chocolate drink only" period is over! We are part of the SOLINA Group, experts in culinary flavourings. We therefore have a wide range of innovative flavours and tastes. It is essential that a person who strictly supervises his or her food keeps a good mood. Thanks to our wide range of more than 100 products, it's impossible to get bored!
What are the main strengths of Laboratoire PYC?
We do not have a brand in order not to compete with our own customers. So, it is very important for us to have a strong customer proximity. All our teams are attentive to the requirements of the customers' projects to accomplish them with the same objective in mind: customer satisfaction. We have many years of experience in this market and we are continually enriching it. We have a regulatory and quality department that is present to answer any questions or doubts. We are also flexible: we have a range of products in stock to answer small quantity orders. Everyone is available and involved to bring our customer to market success! Customers trust us, we strive to maintain a high level of service. To guarantee this, we aim for new certifications every year, such as ISO22000, which we have just renewed at the end of 2020!
What is your idea of management?
Collaborative! Success can only be achieved as a team, so everyone must participate and add their ideas.
When I took up this position, my first step was to set up a management committee. I regularly meet all the managers around a table to discuss short and medium-term issues. It's important to communicate well, exchange well, share, either the good ideas or the difficulties that everyone may encounter; it's the key to overcome every situation. Exigence, cohesion and transparency!
What is your vision for Laboratoire PYC? What are your plans? Which new direction?
We need to continue our growth trend! Even though it is impossible to travel abroad now, the sales team is succeeding in entering new markets. We must continue our export development. We must persevere with innovations, whether in slimming or in the food supplement market. And all this in the direction of eco-responsibility. It is imperative that we respond to our customers by providing them with increasingly ecological and sustainable solutions. It is everyone's responsibility. We started this approach by launching our Clean Label range: a short and understandable list of ingredients for the consumer, healthy ingredients… and all this while maintaining the pleasure and effectiveness of our products!
Health crisis, does the current context have an impact on your activity?
I believe that the health crisis has had an impact on absolutely all entities! Like everyone else, we were surprised when the first lockdown in March was announced. We reorganised our teams to adopt teleworking wherever possible. We have set up health protocols within our facilities so that each employee can come to work in complete safety. We are fortunate to be in the food industry; our factories already have very strict hygiene protocols. Most barrier practices are already an obligatory routine in all SOLINA factories. All the countries where we trade are affected by the Covid-19 crisis. We need to be able to juggle between lockdowns, border closures, shop closures… We have done everything we can to maintain our commitments to our customers, to serve them despite occasional supply difficulties, and to keep in touch with them via telephone or video, which have completely revolutionised our business approaches! Our unique objective is to get through this crisis by maintaining the growth of our business while protecting each of our employees.
A final comment?
I am delighted to have worked with Roger BORNE for so many years. I wish him a very beautiful, well-deserved, peaceful and fulfilling retirement. We all thank him for what he has been able to bring to Laboratoire PYC over the last 13 years.
I am very proud of the Laboratoire PYC teams. We will continue to move forward together to live the PYC adventure for many years to come!