A few rules to manage your weight and live your diet better
https://www.laboratoire-pyc.com/wp-content/uploads/MR-Cheese-pancake-1024x512.jpg
1024
512
admin-pyc
admin-pyc
https://secure.gravatar.com/avatar/0230e3b627514ff2fe54ed68bff1dcc1?s=96&d=mm&r=g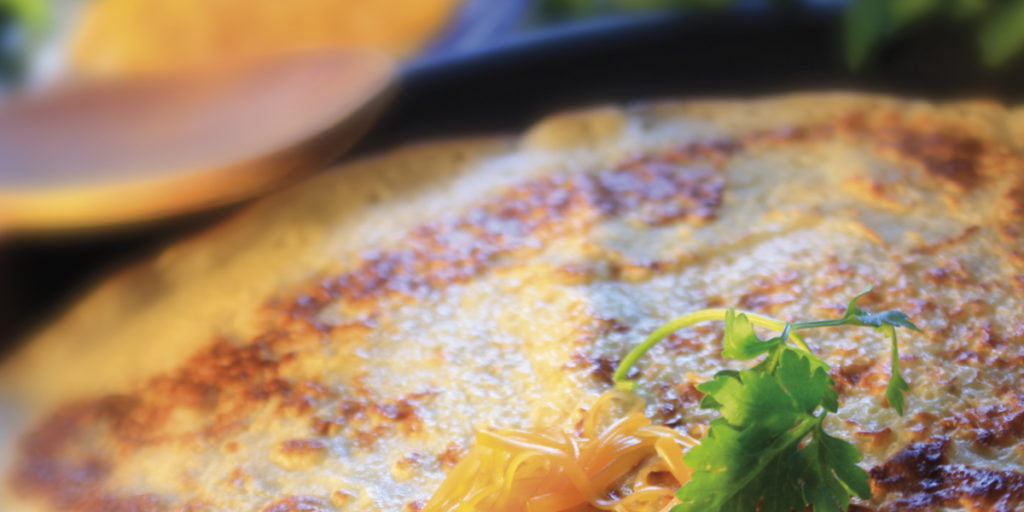 A few rules to manage your weight and live your diet better
9 million French people choose a diet to lose weight (Xerfi).
While some know the tricks to keep their weight in shape, others, on the other hand, experience weight variations that are sometimes significant. A few products and a few simple rules can help achieve this.
At Laboratoire PYC, we have worked in collaboration with the nutritionist Béatrice de Reynal, to develop a slimming program.
This slimming program can be found in our starter pack.
Discover below some of the rules to follow to better manage one' s weight and live a diet better.
Weight loss, the different phases and products
Diets are often composed of a "starter" phase and a "stabilisation phase". The duration of each phase varies according to the weight loss goals.
The first "starter" phase alternates between regular foods and meals consisting of weight-loss foods such as meal replacements. The nutritionist's advice: 2 meal replacements per day.
The second phase of "stabilisation" consists in reducing the proportion of slimming dietetic foods while reintroducing a larger proportion of common foods. The nutritionist's advice: 1 meal replacement per day.
Meal replacements are often products of choice for a diet because they allow for simple calculation of caloric intakes while benefiting from balanced nutritional intakes. These products are indeed framed by European regulations and designed as a slimming aid.
Meal replacements have a defined composition to provide all the guarantees in terms of nutritional intake, quality and safety.
These specific products contain proteins. The recipes are designed to provide energy, fibre and regulate the feeling of hunger in a balanced way. Meal replacements contribute, as part of a varied and balanced diet, to weight loss and weight control, safely.
Weight loss, sample menus
Example of a menu in the "Starter" phase :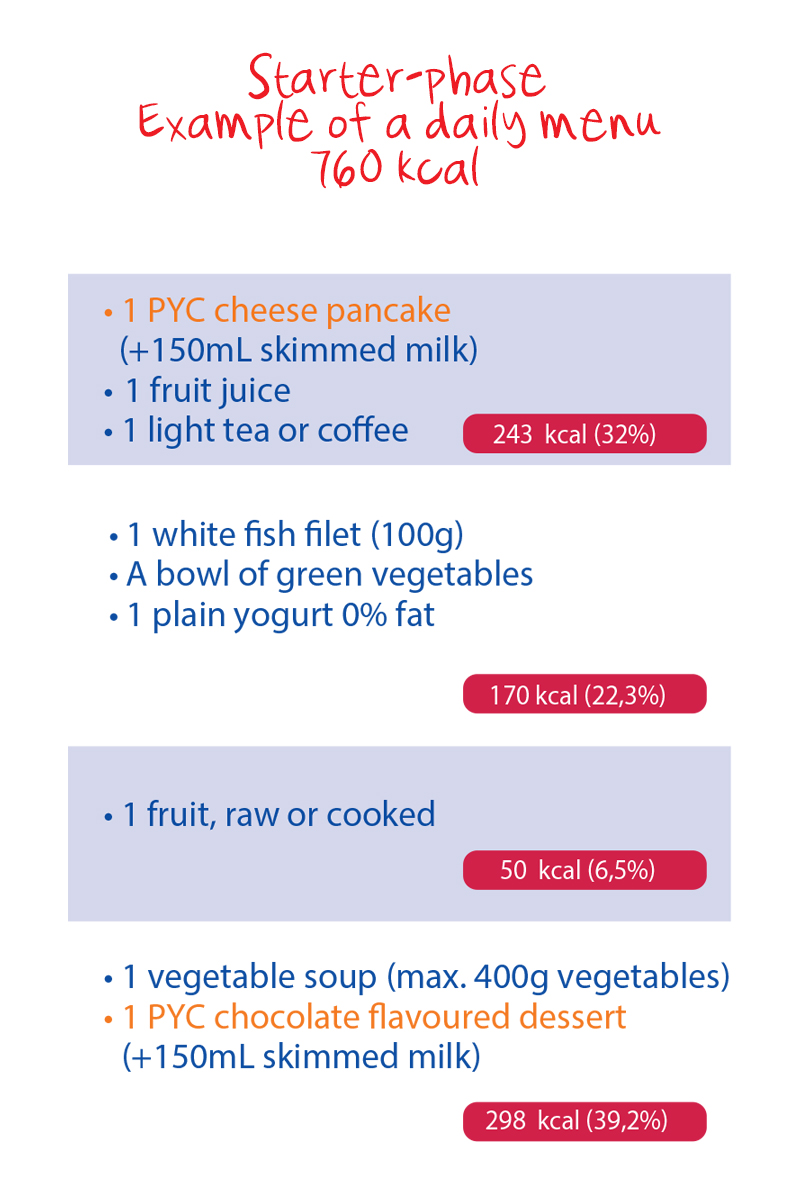 Example of a menu in the "stabilisation" phase :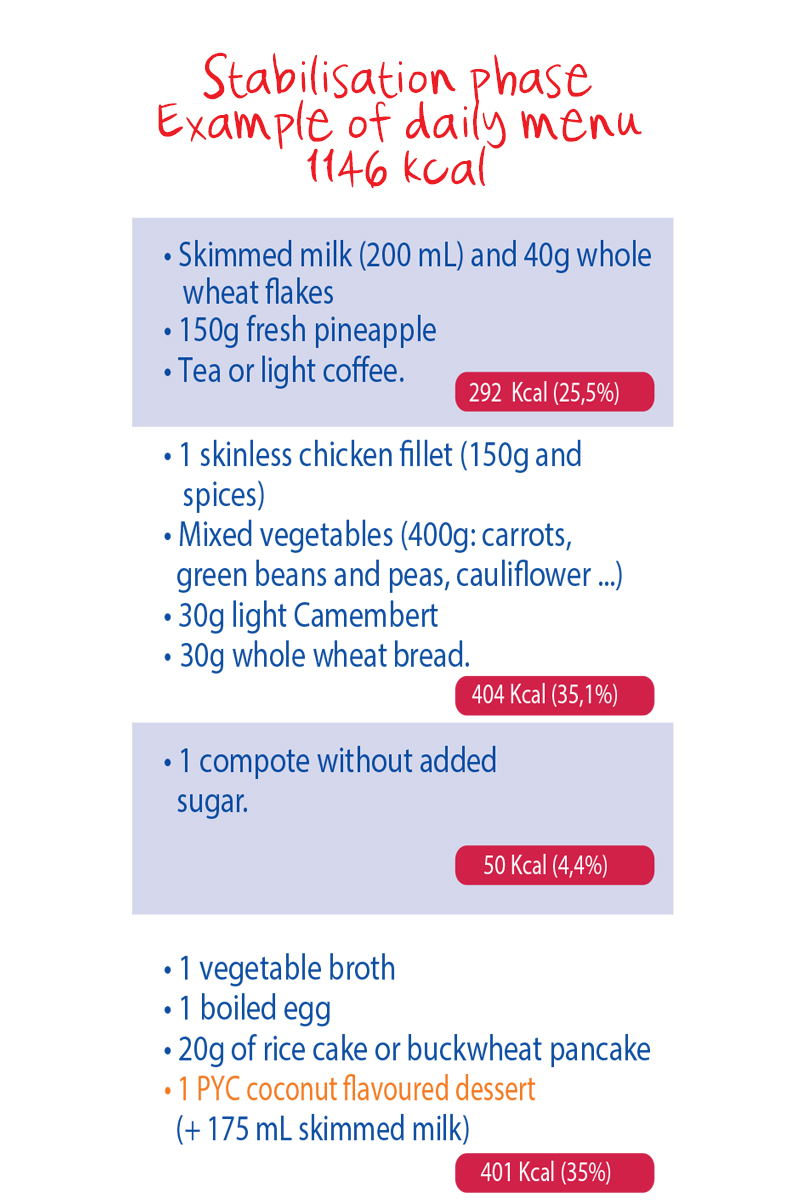 The objective of the "stabilisation" phase developed by a nutritionist is to guide towards new, more balanced eating habits. It is often recommended to consume 1 meal replacement per day and therefore to move on to 2 meals based on common foods with in particular "slow sugars" such as starchy foods and bread. This transition phase is very important as the diet becomes more diversified. We then start again on good eating habits and maintain a dynamic of weight loss.
Weight loss, a few rules
A few rules of everyday life will help to optimise the results during the diet.
Discover below 15 golden rules given by Béatrice de Reynal: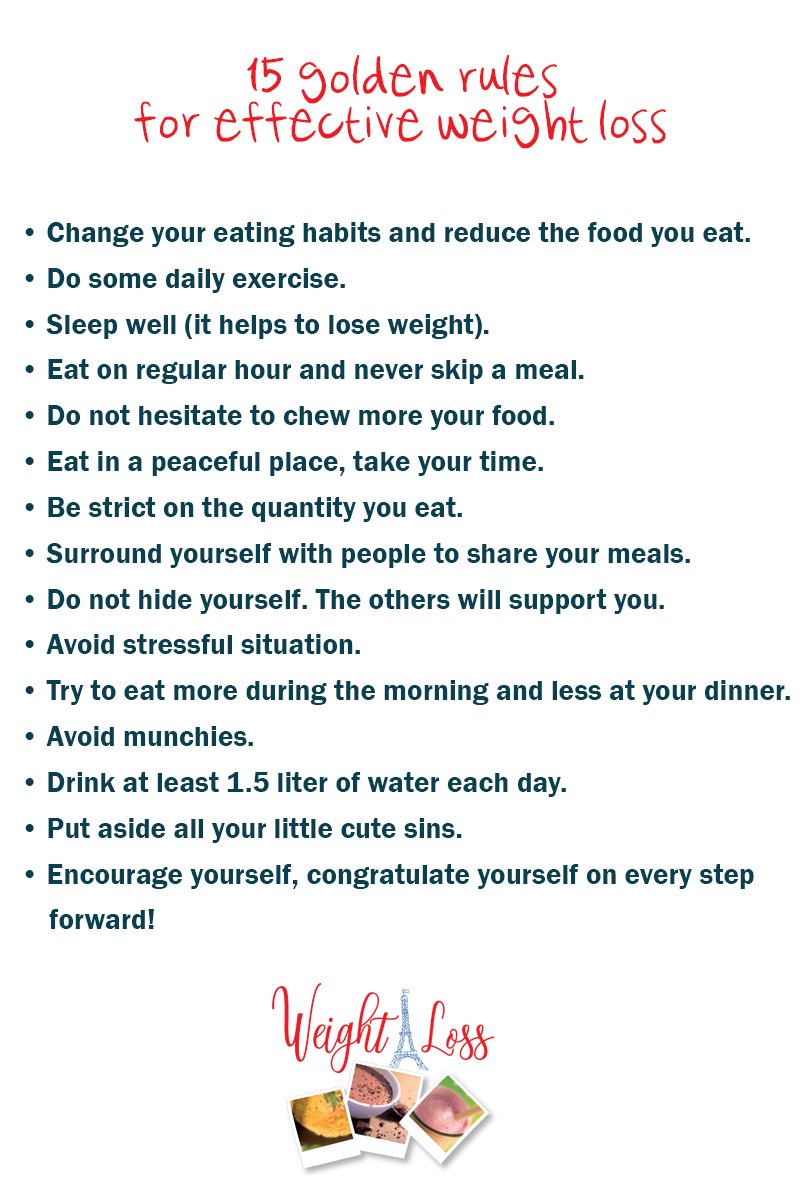 These rules also make it possible to maintain one's weight beyond the dieting period.
Losing weight, success with your diet at the office
While teleworking, have you started a diet, and would you like to continue it at the office?
Do not think that office lunches rhyme with gaining weight! All you must do is organise your meals. Meal replacements have the advantage of being easily portable. If you have a microwave, you will be able to reheat the meal replacements (e.g. soup). If you have a fridge, it will allow you to store dessert creams and smoothies.
There are also bars and biscuits that are easy to eat without cooking and which can be supplemented with fresh fruit. In any case, it is still important not to skip lunch. Lunch is essential and allows you to balance your energy and nutritional intake, but also to take a break before continuing in the afternoon.
Laboratoire PYC manufactures slimming dietetic products for professionals.
For more information on the starter pack or meal replacements from Laboratoire PYC: